Robat Arwyn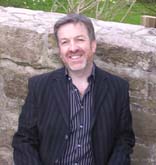 Originally from Talysarn in the Nantlle Valley, Robat Arwyn graduated in Music from Cardiff University in 1980 before going on to complete a Diploma in Librarianship at the College of Librarianship Wales, Aberystwyth in 1981. Today, he is Denbighshire County Council's Principal Librarian, and lives in Rhuthun with his wife, Mari, and children, Elan and Guto.
He joined Côr Rhuthun in 1981, was the accompanist from 1987 until last year and has composed many of the choir's pieces over the years. Following the death of Morfydd Vaughan Evans in October 2007, Arwyn was appointed as the choir's conductor.
Morfydd Vaughan Evans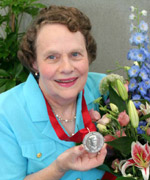 Morfydd Vaughan Evans was born in Pentrecelyn near Rhuthun. After leaving school she went to work at the Ministry of Agriculture in Rhuthun and remained there until her retirement. On her marriage to Penri she moved to Rhuthun, where she worked tirelessly giving piano and singing lessons to a great many children from the area for over fifty years. But perhaps her greatest work was founding Côr Ieuenctid Rhuthun (Rhuthun Youth Choir) in 1981. The choir went from strength to strength under her leadership, competing in 'eisteddfodau' (competitive singing events) throughout Wales as well as in music festivals abroad, and taking part in hundreds of concerts.
Very sadly, we lost Morfydd in October 2007 and, to quote from Iwan Vaughan Evans' tribute at Morfydd's memorial service:
"There is no doubt about her musical talent. She didn't have a degree in music nor any professional training, but she knew what made good singing and a good sound. She received much praise from adjudicators both in Wales and abroad for the quality and warmth of the choir's sound and for her interpretation of musical pieces. It came as no surprise therefore that she was honoured by the Gorsedd of Bards, firstly with the green robe and then, in the National Eisteddfod in Newport in 2004, with the white robe. Nor was it surprising that she received the T H Parry-Williams memorial prize in the National Eisteddfod in Meifod in 2003 for her contribution to the life and culture of her area."
"Her passing is a great loss to her family and friends who will miss her deeply, and choral singing in Wales will be poorer. But none of us will forget her. There is no doubt that Morfydd succeeded to make choral singing cool for young people. We will remember her as a special sister, a faithful partner, a musical and versatile conductor and as a very very special friend."