History

In 1980 Morfydd Vaughan Evans brought a group of girls together to form a singing party to compete in the Urdd Eisteddfod in Abergele. Soon after its success, Morfydd decided to bring on the boys, and in 1981 Côr Aelwyd Rhuthun - later to become Côr Ieuenctid Rhuthun (Rhuthun Youth Choir) and then Côr Rhuthun a'r Cylch (Rhuthun and District Choir) - was born under Morfydd's leadership with Beryl Lloyd Roberts as the accompanist.
Album of Old Photos
The choir has won the main competition for mixed choirs in the National Eisteddfod six times. In 1996 it won the third prize in the International Eisteddfod in Llangollen, and in 2006 brought home the first prize in the Choral International Festival in Sligo, Ireland. There have been many appearances on television and radio over the years, as well as the release of 7 recordings and CDs.
Album of Photos from Eisteddfodau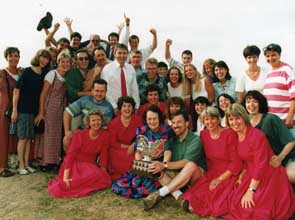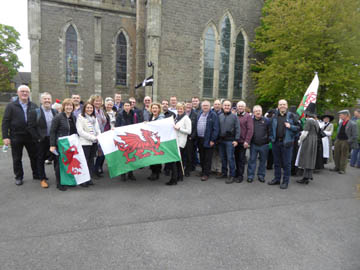 The choir has competed in several music festivals including Killarney and Sligo in Ireland and Eindhoven in Holland, and has made concert trips to Canada, Paris and Rhuthun's twin town, Briec in Brittany. In April 2017, the Choir competed in the Pan Celtic Festival in Carlow in Ireland and returned home with a couple of first prizes!
Album of our Trips
One of the highlights of the Choir's history was performing and recording a work commissioned by Robat Arwyn for the National Eisteddfod in Denbigh in 2001, namely 'Atgof o'r Sêr' (Memory of Stars), with soloists Bryn Terfel and Fflur Wyn. In 2003 the choir was invited to record the Welsh version of Handel's Messiah with Côr Eifionydd and the Sirenian Singers for S4C with soloists Bryn Terfel, Eirian James, Shan Cothi and an ex-member of the choir, Rhys Meirion. Rhys then invited the choir to sing three songs with him on his CD 'Pedair Oed' in 2004 as well as a new carol, 'Un Enaid Bach', on the CD 'Nadolig Newydd' in 2006. Also in 2006, as part of the choir's 25th birthday celebrations, it recorded 'Er Hwylio'r Haul', a work by Robat Arwyn to commemorate the life of Llywelyn, the last Prince of Wales.